3/28-Wayah bald to random campsite (13.6. Miles)
Bevo, Chaos, and I went to a free pancake breakfast at the local Baptist Church (as we did yesterday, but I forgot to mention it). It is a really nice event they put together every day for thru hikers. There was almost no preaching, which was a nice bonus, given that they were feeding us for free and providing transportation to and from the hostel.
We then got a ride from Beverly back up to Wayah Bald. Most of the shuttles operate on donations, and we haven't been sure exactly what a fair price is. We have gone with $1 a mile (none of the drivers will give a more specific number), which is what we over heard the hostel owner suggesting to another person.
We then hiked up a short way to the top of the bald where there was a really cool old fire tower. The views from the tops of the balds have been by far my favorite on the trail and serve as a great reward after a long climb.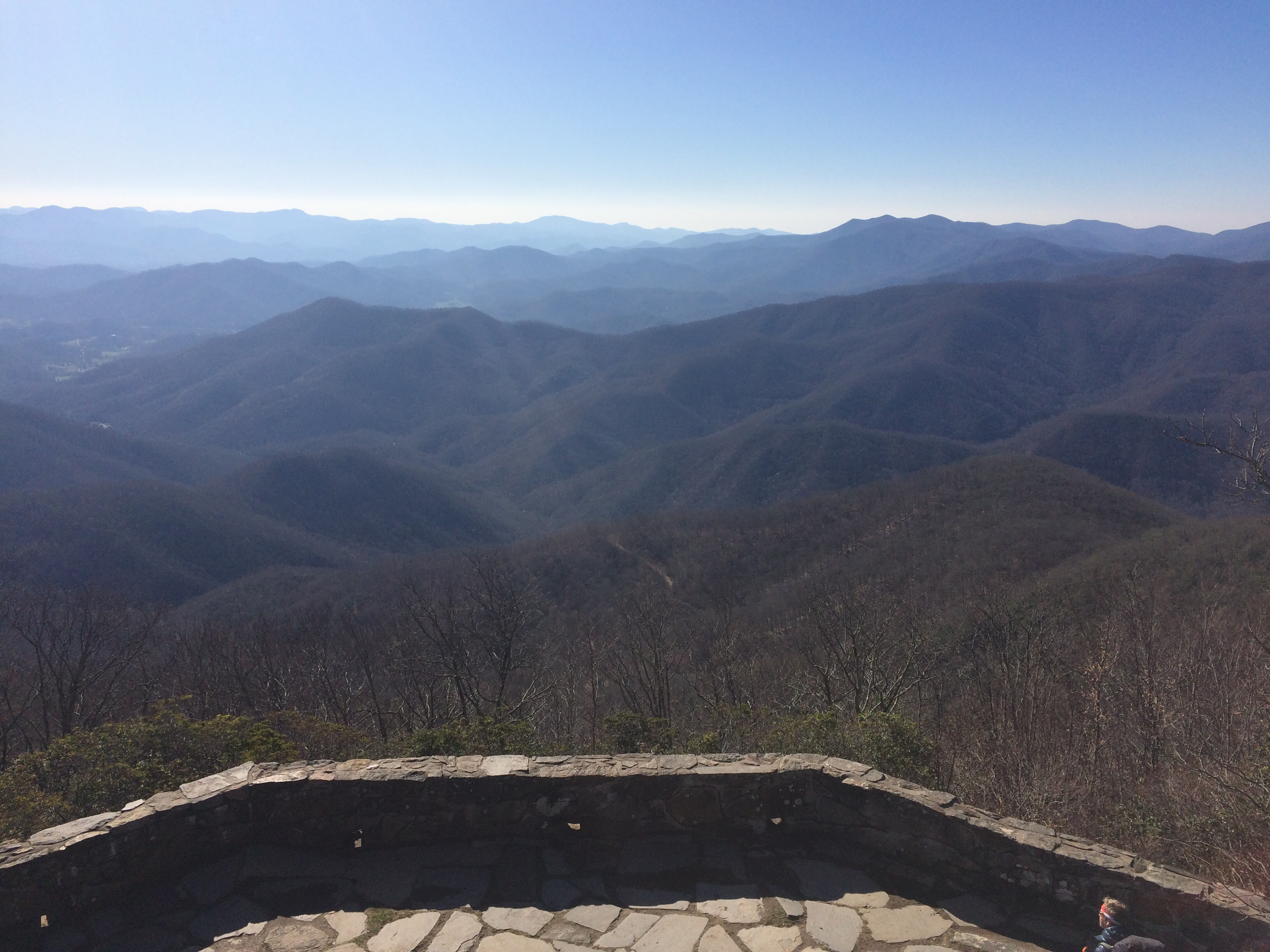 During the hike today Bevo and I got into a detailed and interesting discussion about EPA coal regulation (his wife works at a large generation company). While I don't think either of us left the conversation with significantly different view points, it was good to hear another perspective. The conversation eventually evolved into the philosophical role of government more generally. I like having these conversations off of the trail and enjoy hearing from people I might never otherwise cross paths with. They also serve as a good way to pass the time.
We got to the top of Wesser Bald, which had the best 360 degrees of views I have seen yet on the trail. After we summitted we decide to grab water (about 6 pounds worth each) and spend at what we expected would be one of the many campsites that dot the side of the trail. To our disappointment we did see any for nearly two miles, and that one could barely be considered one. However, we were all tired and starting to feel the water weight (it was a steep descent).

When we got to camp I was putting dinner on and realized I lost my spoon. Chaos let me borrow his, and thankfully we will be going to a outfitter tomorrow so I can get a new spoon.
Luckily there was a great sunset to enjoy that evening. I am really liking this section of the trail. We will see if I am saying that once we get out of the smokies (there are several >3000 ft climbs before then, including one tomorrow morning.
3/29- Random campsite to Sassafras Gap Shelter (10.7 miles)
Today was a long day (in time not miles). As usual Bevo, Chaos and I got off to an early start (8am). We hiked down to the Nantahala Outdoor Center. Immediately when we arrived Chaos found a person and asked if we could go white water rafting today. We were told that we could at 10:45 which gave us an 1.5 hours for breakfast at their restaurant. Breakfast was pretty good (certainly better than the bars I would have ate) and we ran over to the outfitters so I could buy a spoon to replace the one I lost.
We then headed over to get set up to go rafting (we actually used inflatable kayaks). We got on our wetsuits and got in the van to head to the top of the river. The rapids weren't anything new crazy (mostly class 1 and 2s with a couple of class 3s), but they were a lot of fun to go down. It was a great break from hiking. We passed some great log cabins that looked like the types of places I would love to live in.
Since the kayaks were so close to the water we were getting soaked through the rapids. This was fun at first, but about halfway through Chaos and I started getting really cold. It was in the mid 60s, but the water felt like it was pretty close to freezing temperatures.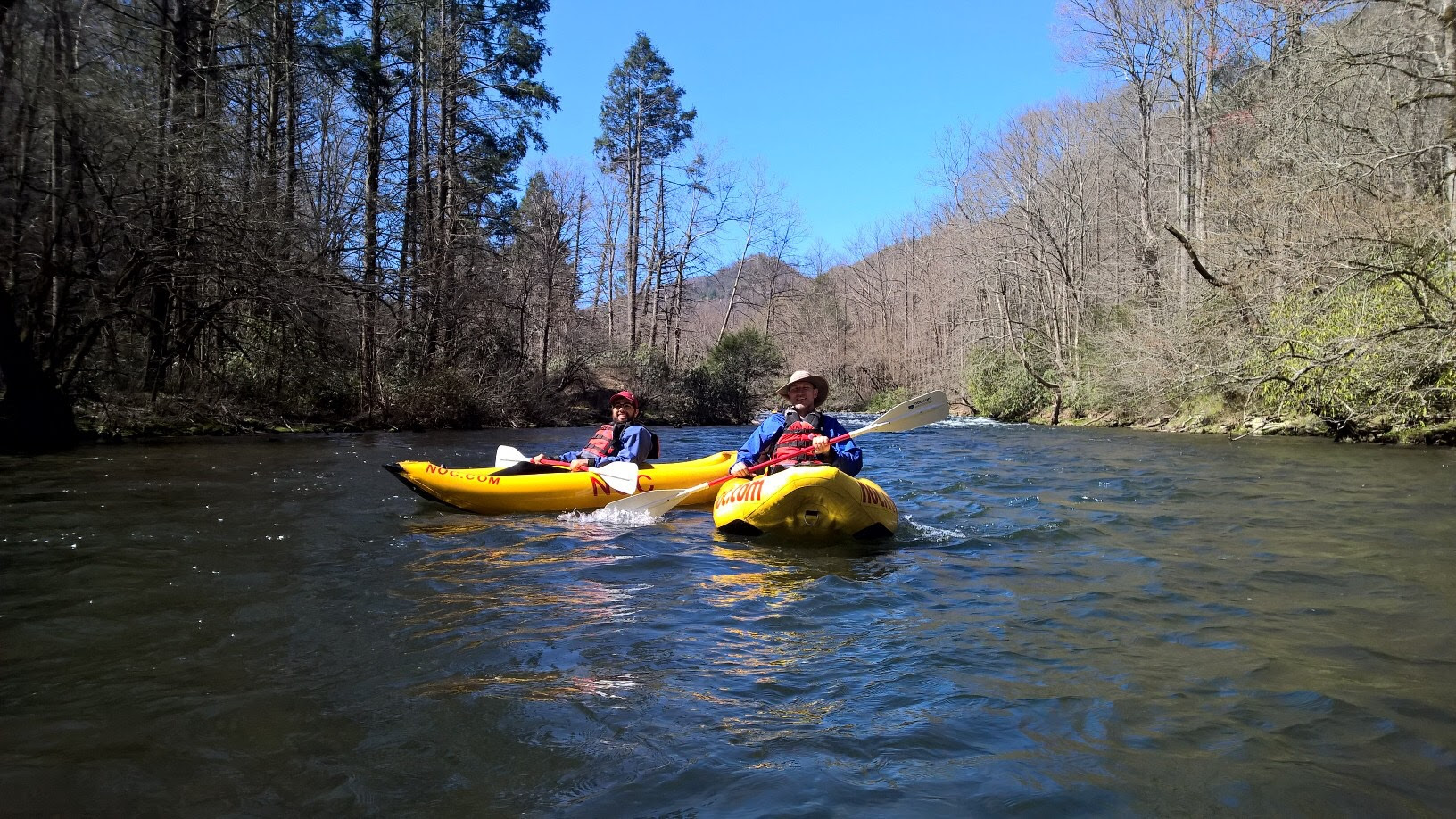 We finished rafting around 1 and then went over to the same restaurant to have lunch. The picture below shows how many thru hikers had the same idea about stopping in for a meal.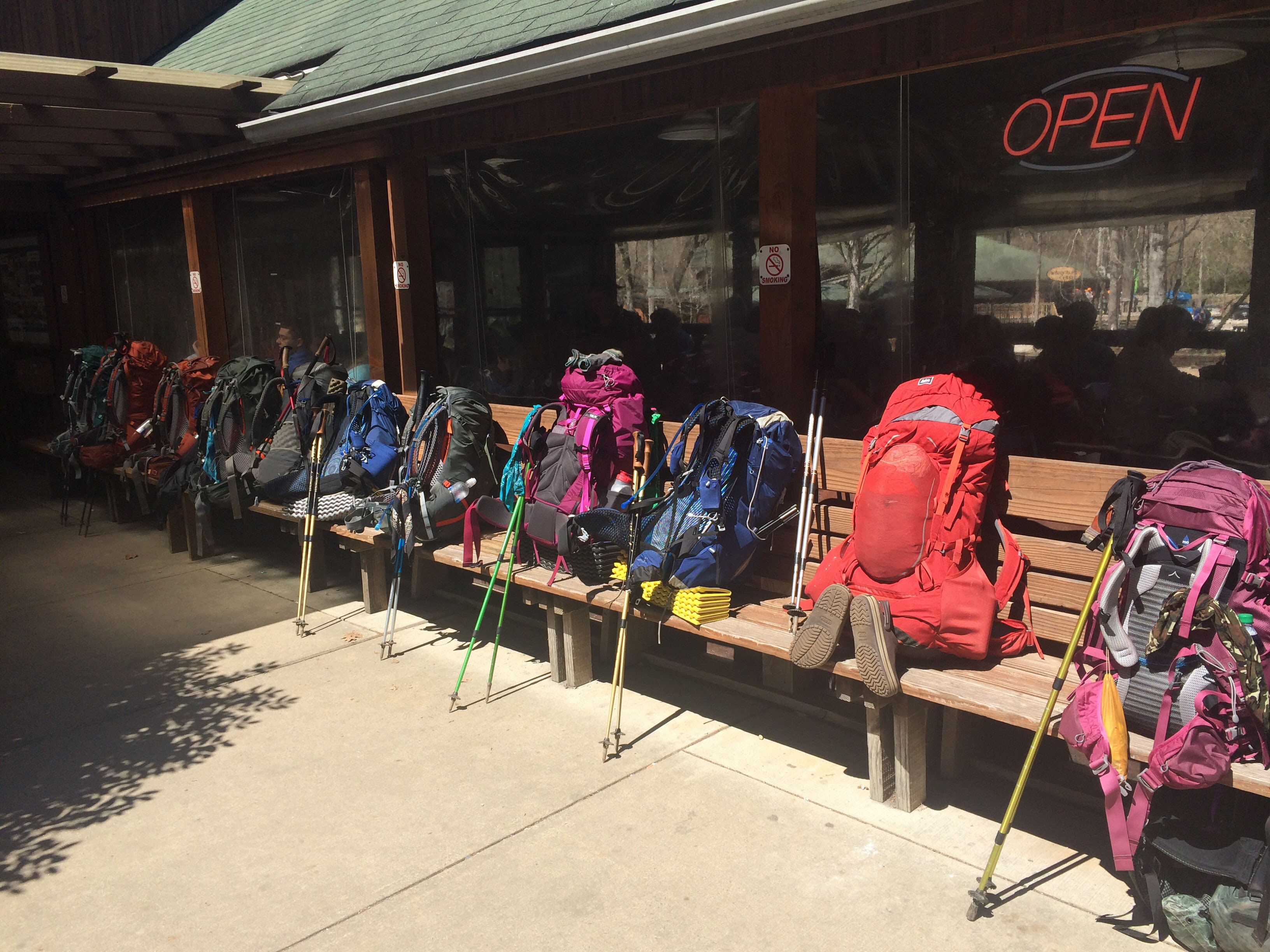 We finished around 3 and started heading up the 3000 ft climb up Swim Bald. There were some good views on the way up, but not nearly as good as the ones we saw over the last few days, which was disappointing given the steep climb.
I am really glad we stopped to go rafting even though I was really tired by the time we arrived at the campsite at 6:30 pm. I hope that I continue to have the time and am with a group of people who likes these types of detours.
3/30 Sassafras Gap Shelter to Cable Gap Shelter (15.2 miles) 
Today was a pretty unexciting day. We woke up this morning and did a short climb up Cheoah Bald. The views at the top were gorgeous. The top of these balds are still my favorite part of the trip this far.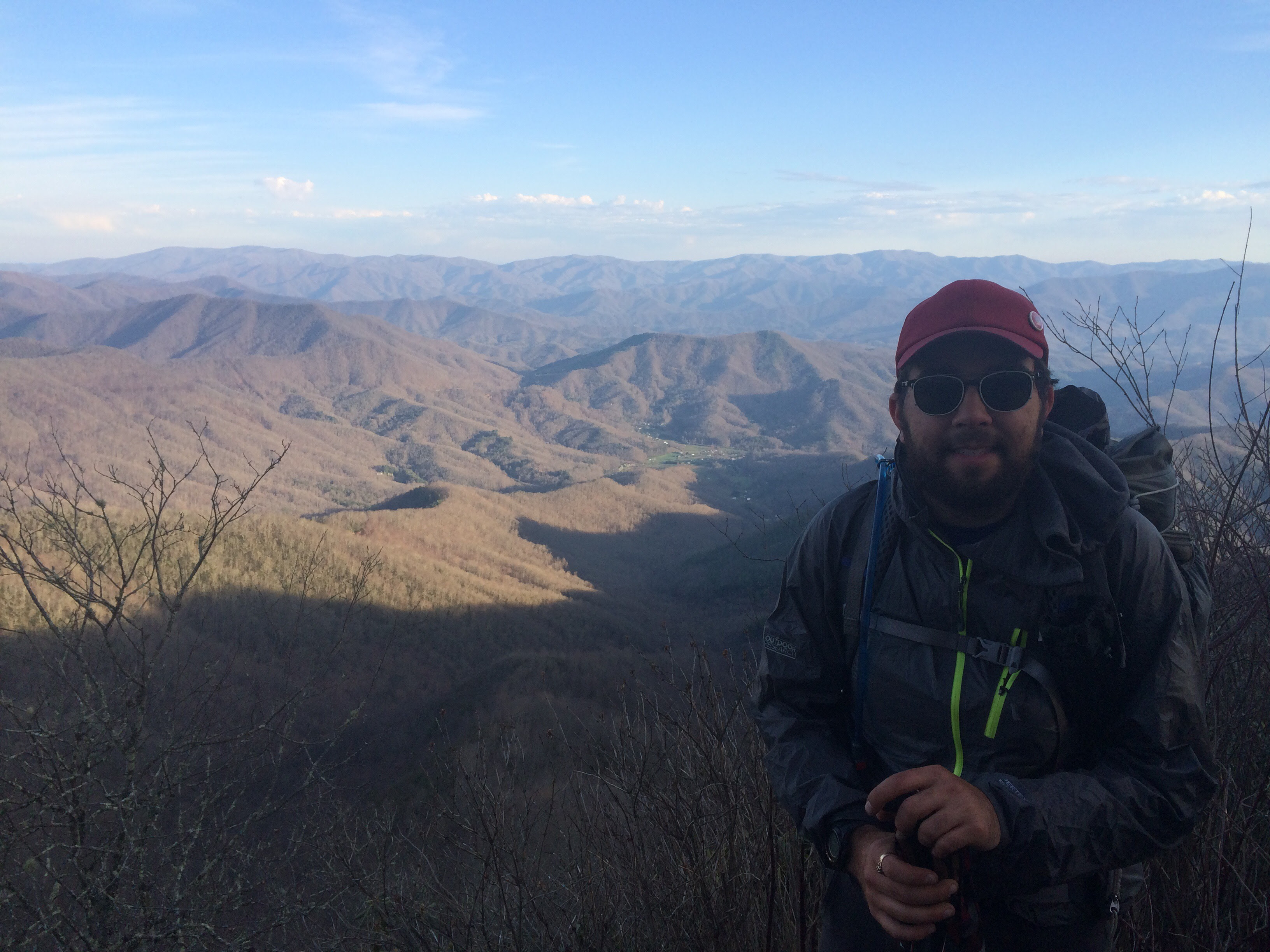 The rest of the day was mostly downhill, but there were a couple of really steep uphill a that definitely got the heart pumping. Around 2pm Bevo, Chaos, and I felt exhausted, even though this wasn't one of our longer days. For me it wasn't that my legs or feet were tired, I just really wanted to go to sleep. I felt better by the time we reached camp, although my legs and feet were feeling tired by the one we arrived.
Portions of today were the first time that I got bored hiking. Bevo, Chaos and I were more farther apart than usual today, so we did less talking than usual (although Chaos and I had a great discussion about finding the things that make you happy and making sure you build your life around them). Most other people listen to podcasts or music while they hike (Bevo finished the first season of Serial over the last two days). I think that I might start to do the same soon since the boredom made the walk feel longer. I am still having a blast, but it can still get boring (just like "real life", but more fun).
We got into camp around 4, which I really enjoy. It gives us a chance to hang out before starting to cook dinner and for me to dry my socks out.
The small rock bag that I use to set up my bear bag got stuck in a tree when I was throwing it. Rather than just leaving it there, Bevo decided to chop the tree down. He claims that he did it to rescue my bag (worth >$2), but I think that he just wanted to cut down a tree and this gave him a good excuse to do it.  Nonetheless it eneded with our best bear hang yet.
Last night I finished the first book of Game of Thrones. I was highly skeptical I would enjoy it, but PK and Champ (two of my friends from UW) both highly recommended it. It was a good book to read after a long days hike.
3/31 Cable Gap Shelter to Fontana Dam Resort (5.5 miles)
Tomorrow is the start of Smokies, and there is a long up hill before the the nearest shelter.  We managed to snag a cabin at the nearby "resort" because it is suppose to rain tonight.  It is going to be a nice nero since there is laundry and food.  We met Lady Catherine (who was looking for a room when we had gotten ours) and invited her to join us in our cabin tonight.
Some how we have both avoided sleeping in the rain so far and are trying to see how log we can go. I'd be surprised if it lasted much longer, but I am going to enjoy it while it lasts.
I would highly recommend you also check out Bevo's blog it provides a different perspective on nearly identical days. He is better at providing some of the details on the different people we meet. You can check it out here:http://www.postholer.com/BevoHi